Our Products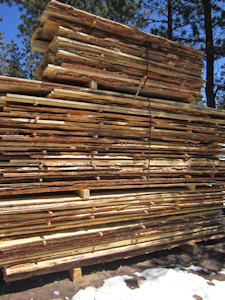 Using our complete and fully operating circular sawmill, Golden West Pine Mills specializes in manufacturing wood products from beautiful Ponderosa pine or timeless Douglas-fir. Our raw material is harvested from Colorado's forests, while always keeping sustainability and quality in mind.
We can manufacture wood products in sizes ranging from:
1x4 to 1x12,
2x4 to 2x12, or even
Planks up to 3" to 8" in thickness and up to 12" in width.
Lengths are available between 8' and 16' with an additional capability of up to 22'.
View our Price list (as of January 1, 2022) :
Click here to download our current price sheets.
Our Product Line
Our product line includes both rough-sawn and finish-grade products.

Our rough-sawn product line includes:
Dimension lumber
Timbers and cants
Exterior trim products

Trim boards
Board and batten siding
Tongue-and-groove products
Channel siding
Shiplap siding

Industrial packaging
Pallet stock
Blocking and cribbing
Three-sided slabs
Sawdust, shavings and firewood
Our finish-grade product line includes:
Interior trim and moulding products

Specialty trim boards
Mouldings
Paneling and wainscoting
Flooring
Mantles