About Blue-Stain Wood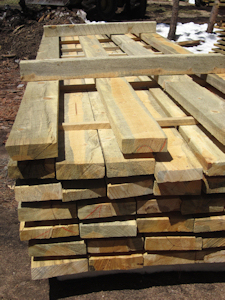 The blue-stain present in Colorado's beetle-killed pine forests is not a defect. It's a discoloration of the wood caused by a fungus introduced by the mountain pine beetle. As the fungus spreads, it feeds off of the material contained in the wood cell. However, it does not feed or otherwise damage the wood cell's walls. The blue-stained wood is just as stiff and strong as clear wood. In many cases, customers ask for blue-stain wood because it is more pleasing to the eye.
We Sort for Color!
We at Golden West Pine Mills agree and can manufacture a wide array of blue-stain wood products. In fact, we sort our blue-stain wood products into three distinct and attactive color categories. Ask us how we can help you meet your blue-stain needs today!